Get control of sales processes with Salesforce Sales Cloud
Sales Cloud is the world's leading CRM system which helps you to assess the potential of your sales pipeline and close sales faster and more efficiently.
Sales Cloud is a scalable product that brings together all customer information into an integrated platform. The platform includes everything from marketing, lead generation, sales, and customer service to business analytics while providing access to thousands of applications through AppExchange at the same time.
The name says it all. Sales Cloud stores your data in the cloud, which means you can access it from anywhere in the world, at any time of day, and from any device. Sales data is only effective if it's up-to-date and accessible, and that's what Sales Cloud offers.
Whether your growth strategy aims to capture new markets or additional sales to existing customers, Salesforce Sales Cloud is designed to handle these opportunities.
Better conversion of leads
Forecasts are more accurate
Manual routines are reduced
Data are gathered in one place
Higher success rate on sales
Personalized Customer Journeys
Build long-lasting, loyal customers with every interaction.
Connect sales, marketing, finance and service teams and guide every customer through a personal customer journey.
Adjust your strategy on-the-fly
Develop your sales strategy to decide whether you want to enter new industries or markets.
Track team performance, sales performance and ongoing developments via dashboards and reports.
Work faster and smarter
Standardize processes, automate manual tasks and access data wherever you are – even offline.
Boost your team's results through fact-based insights, guidelines and forecasts.
Build your business around your customers
Sales Cloud automates the sales process, and uses point-and-click tools to enhance and customize workflows. Using the Sales Path tool, sales managers can customize the stages and steps that reps will follow as they create and maintain records.
It helps reps save time on administrative legwork and visualize what actions they need to take to move a prospect through the pipeline. For sales managers, it assures that records are being filled out correctly and that reps are completing the information most relevant to the managers' needs.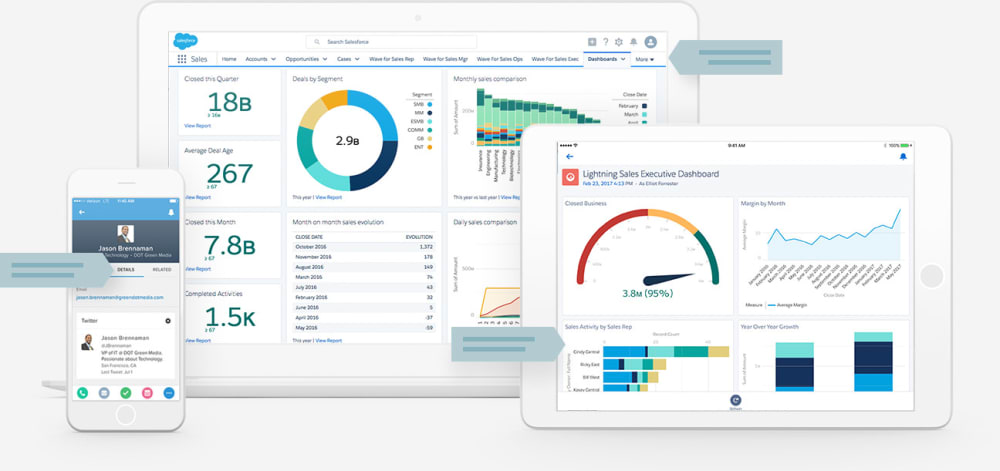 Sales Cloud can be connected to Gmail, Exchange and Office 365 email clients, giving your reps the ability to instantly and seamlessly update Salesforce records with email data in just a couple of clicks.
Artificial intelligence with Einstein for Sales Cloud
Einstein provides recommendations, insights and sales forecasts that give your sales team optimal conditions to prioritize their work effort. In other words, it gives your Sales team a good starting point for making better decisions in everyday life.
Watch the video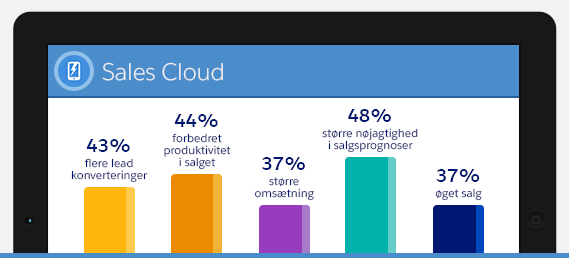 References
We have done it for others. We can do it for you.